Practice Change December 1
Dr. Aucamp is making a change and will be transferring his practice to Dr. Lindsay Kwantes and Dr. Jeff Kwantes effective December 1, 2018. Dr. Aucamp will be missed. Please see his letter to his patients here. We are excited to welcome the Kwantes' to the Centreville Clinic!
When?
9 AM to 5 PM M-F, closed for lunch. Please check with our staff regarding availability of particular physicians.
Who?
STAFF
Carol, Annette, Lena, Georgia, Karen, Tori
PHYSICIANS
Dr. Chris Cunningham
Dr. Lindsey Fisher
Dr. Stephen Friesen
Dr. Jeff Kwantes
Dr. Lindsay Kwantes
Dr. Aisha Manji
Dr. Brett Poulin
Dr. J. Andrew Spencer
Dr. Emily Stevenson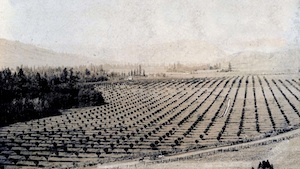 About Our Clinic
The Centreville name is historical. In 1885, Charles Brewer and E.J. Tronson laid out a townsite in the North Okanagan Valley and called it "Centreville". In 1887, it was renamed "Vernon".
The "Centreville Clinic" was established in November of 2012.
Image courtesy of the Vernon Museum and Archives. Image 5029.